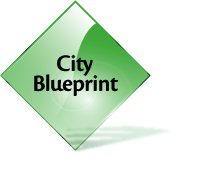 tool
Helping cities face the water challenges of the future
City Blueprint
Extreme weather events that leave city streets under water in a flash. Or protracted drought that renders a city's water supply incapable of meeting its needs. Two extreme cases that are becoming more and more of a reality because of climate change, and all the more so since urbanisation is increasing rapidly. These and other developments leave cities no choice: they are forced to adapt their watercycles because the cost of inaction is very high.
But how can a city quickly grasp which elements of its watercycle are already sustainable and which need to be adapted? To answer this question KWR developed City Blueprint: a practical communicative tool that can help cities lay out the proper path towards sustainability. City Blueprint is part of the Watershare Suite of tools.
Interactive tool for strategic decision-making about urban water
The power of City Blueprint lies in the fact that cities can, with relatively little effort, learn to recognise how their watercycle services could be improved. Thanks to the tool, the ultimate 'blue city' is brought within reach through the combination, active sharing and application of best practices.
City Blueprint benefits:
City Blueprint is a quick scan: it reveals a city's strong and weak points at a single glance. The tool can serve as the first crucial step in strategic long-term planning aimed at making cities sustainable and water-wise.
City Blueprint is an easy-to-understand interactive tool for strategic decision-making. The actual assessment is done together with key stakeholders, which leads to a definition of priorities and facilitates public participation in the sustainability transition. This guarantees an outcome in the shape of usable results and quick access to expertise.
City Blueprint offers a platform to promote city-to-city learning and the sharing of best practices. Cities can learn important practical lessons from the practices of other cities.
City Blueprint is a steadily expanding network: currently it includes 125 cities in over 50 countries.
City Blueprint is one of the Watershare Suite of tools and is a component of the European Innovation  Partnership (EIP) Water. Also , under the EU's Horizon 2020 programme, we advise the European Commission on the uptake of water and waste in their Smart Cities policy.
Rewarding ambitious water management
The success of KWR's City Blueprint approach is manifested by the large number of cities that have already made use of the tool. Whenever relevant, trends and bottlenecks have been identified and performance assessments made of the city's water management and governance. Detailed case studies have been published and are available on the following cities: Rotterdam, Amsterdam, Hamburg, Istanbul, Melbourne, Dar es Salaam and Ho Chi Minh City.
Local authorities with an ambitious water management are rewarded with a good Blue City Index (BCI) score: a number between 0 and 10 that characterises the sustainability of the urban watercycle. The wide variations in BCIs indicate that cities can benefit greatly from sharing their practical experiences with each other.