Horizon 2020 is a European programme for research and innovation aimed at strengthening European competitiveness. In consultation with the public and private sectors, KWR works within Horizon 2020 on solutions for societal challenges and scientific innovation. For water companies and other end-users participation in the European programme's projects means that they gain a European perspective on innovation.
Horizon 2020: strengthen Europe's competitiveness
The European programme for research and innovation, Horizon 2020 (2014-2020), has an €80 billion budget to stimulate contributions towards solving societal challenges and scientific innovation. The objective is to strengthen Europe's competitiveness by developing innovation and industry.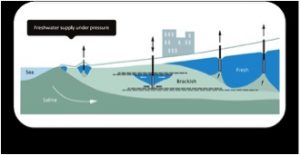 KWR participates in Horizon 2020 projects
KWR's participation in Horizon 2020 underlines the importance that we, as an applied research institute, attach to the interaction between the public and private sectors at an international level. Together with knowledge partners, water companies, industry and technology providers from practically every European region, we contribute to solutions for societal challenges. Among our areas of focus are health, safety, infrastructure, climate change and the circular economy. In the area of scientific innovation, we pursue international collaborations with universities.
We participate in the following Horizon 2020 projects:
SUBSOL: International introduction of subsurface water storage (Subsurface Water Technologies) to improve the freshwater provision in coastal areas, in collaboration with Vitens, ARCADIS, B-E de Lier and eleven European companies and knowledge institutions. KWR is the coordinator of SUBSOL.
BINGO: Translation of global climate scenarios, as described by the IPCC, to the local level of the water manager or water company. In this project we work closely with Vitens and the Province of Gelderland. Coordinator: LNEC (Portugal).
BLueSCities: Application of the Smart City philosophy of the European Innovation Partnership (EIP) for the integration of the water and wastewater sector in the urban watercycle, supplemented by other areas of interest, such as energy, transport and ICT. Coordinator: CTM (Spain).
POWER: Integrated approach to urban water management through a combination of social, technological and political innovation. In this project we work closely with Utrecht University. Coordinator: De Montfort University (United Kingdom).
ANSWER: Research into the transmission of antibiotics and antibiotic resistance in wastewater to humans and the environment via the soil, water and crops. Coordinator: University of Cyprus.
European perspective on water sector challenges
By participating in Horizon 2020 projects, water companies and other end-users get close to the sources of innovative knowledge and expertise. They strengthen their network at the European level and learn from each other's solutions, which provides them with a broader perspective on the challenges the water sector struggles with. This strengthens the effectiveness of water company operations. Video – 01:58
Subsurface Water Solutions