The conclusion of the Transdisciplinary Case Study (TCS) Sustainable Development & Water Science and Management course of the University of Utrecht took place at the Pakhuis De Zwijger in Amsterdam on 3 November. In 4-minute pitches, the students presented the results of 19 different research projects. KWR had formulated 2 of the research topics and was represented in the jury.
The research projects
As case-owner, KWR researcher Kees Roest had students undertake research into 'Resource Efficient Water Cycle in the Circular Economy: Learning from Best Practices and Barriers on the Recovery of Rare Earth Elements from Used Water'. Another group of students undertook research into 'Combating duckweed (in urban waters): a feasibility assessment of the oloid', which was an assignment set by Org-ID and KWR.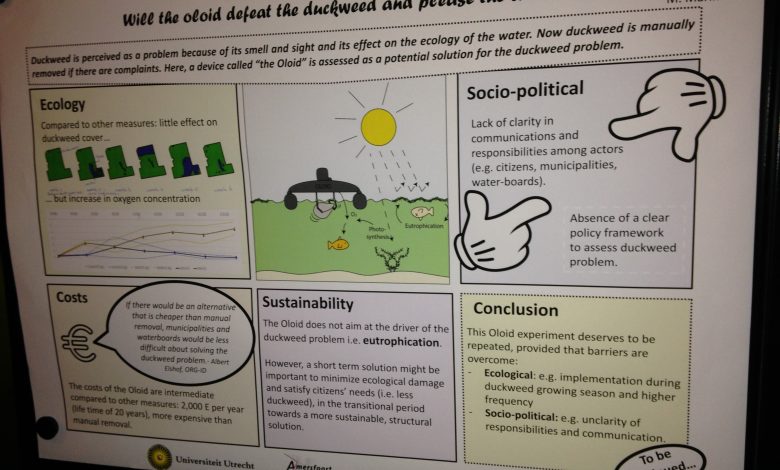 The jury
The jury, which assessed some of the presentations and awarded the first prize, consisted of Edwin de Buijzer, researcher at KWR, and Ariella Helfgott, Assistant Professor of Sustainable Development at the University of Utrecht. De Buijzer: "They were interesting and good presentations, many of which were delivered precisely within the allotted time of four minutes per group. It was also nice to hear what the students had learned and what the case-owners (can do) will be doing with the results of the research. It was a truly inspiring afternoon, with excellent networking. And who knows, we may even see one of the students at KWR in the future!"