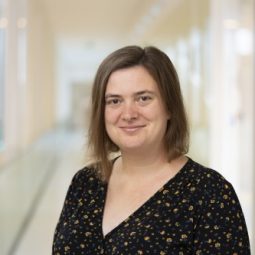 Tessa van den Brand PhD MSc
Scientific researcher
Quality coordinator
Tessa van den Brand has worked as a scientific researcher at KWR since 2010 and is now one of the first members of the new Energy and Circular Systems team. She did her PhD on "sulphate reducing bacteria in wastewater" while in service at KWR, and successfully defended her thesis at Delft University of Technology in 2014. This research combined her knowledge in bioprocess technology, household wastewater and molecular and analytical analyses, with the aim of exploring the prospects of a sustainable innovative concept in the Netherlands.
Among Tessa's strongest drivers is a quest for a more aware and self-critical society and water sector. The environment plays a significant role in this quest, but it is also often elusive and difficult to discuss. Newly conceived innovative concepts are quite regularly presented from a single perspective, and thus unjustifiably rejected or carried through. Tessa wanted to see this changed, which is why, in 2014, she also began to focus on environmental issues.
Tessa's expertise in the environmental field facilitates the assessment of new technologies and concepts for example, for resource recovery in the water cycle. It can be useful in answering questions like: Is this concept really as 'green' as we hope? Which research path has the greatest probability of producing environmental benefits over the short term? Which process is most responsible for noise nuisance, climate change, etc.? But her expertise allows her to calculate future scenarios, answering questions like: Which concept would be most appropriate in the future if we turn to the use of greener energy sources? Or if we can realise a central resource recovery plant?