KWR works in EU Projects that are of direct relevance and impact for the drinking water utilities. Over the last two months, KWR has hosted a series of four webinars for the Joint Research Programme (BTO) of the Dutch and Flemish water utilities. This series focused on EU Projects to which KWR contributes: Wat-Qual, Fiware4Water, STOP-IT, and NEXTGEN.
De webinars demonstrated the value and relevance of participating in EU research and innovation projects and how these can translate into relevant applications and knowledge for the Joint Research Programme partners. In the next sections, we will briefly describe each webinar's key messages and provide more information about each project.
Wat-Qual
The Wat-Qual project focused on developing and applying methods to guarantee water quality in drinking water distribution systems. Wat-Qual looked at current methods, gave an overview of research, and defined best practices based on shared experiences and researchers' exchange. The exchange and knowledge sharing enabled several Joint Research Programme projects, such as the Sediment Prediction Tool Aquarellus, a Joint Research Programme exploratory study in the field of resilient pipe networks, a study on digital water meters, and a PVC degradation model. Working together in this way was valuable for all partners.
Speakers: Mirjam Blokker, Principal Scientist, KWR, Claudia Quintiliani, Scientific Researcher KWR, Peter Schaap, previously at PWN.
Watch the recording of the webinar on WatQual.
Fiware4Water
Fiware4Water is an EU funded project that offers a smart solution platform to support water utilities and developers in creating the next generation of internet services… But what is Fiware ? And why is it important for water utilities? FIWARE enables users and developers to connect to the Internet of Things (IoT), to in-line sensors and actuators, (supervisory) distributed control systems or to third-party measurement devices, and to acquire, process, and visualize its data to deliver smart applications. More specifically, Fiware enables cross-domain data exchange and cooperation by providing open, interoperable, and standardized interfaces for both water sector end-users (cities, water utilities, water authorities, citizens, and consumers) and solution providers (private utilities, SMEs, developers).
The webinar shows how the Fiware4Water project contributes to shaping the digital water future by demonstrating the capabilities and potential of the Fiware ecosystem for water utilities and small and medium enterprises (SMEs) from the researcher's perspective as the water utility that adopts the Fiware approach.
Speakers & Moderators: Lydia Vamvakeridou-Lyroudia, Director Watershare, KWR, Alex van der Helm, Waternet, Siddharth Seshan, Scientific Researcher, KWR and Dirk Vries, Scientific Researcher, KWR
Watch the Fiware4 Water webinar recording.
STOP-IT
This webinar looked at the current developments of the STOP-IT project, which identifies current and future risks and co-develops an all-hazards risk management framework for the physical and cyber protection of critical water infrastructures. Prevention, detection, response, and mitigation of relevant risks at strategic, tactical, and operational levels of planning are taken into account to generate modular solutions (technologies, tools, and guidelines) demonstrated in collaboration with several water utilities. The webinar explains the cyber-physical risk assessment at strategic and tactical scales and shows the Oslo Water utility perspective.
Speakers & Moderators: Christos Makropoulos, Principal Scientist, KWR, Harald Rishovd, Senior consultant, Agency for Water and Wastewater Services, Oslo Municipality, Dimitrios Bouziotas, Scientific Researcher, KWR and Rita Ugarelli, Senior researcher, SINTEF
Watch the recording of the STOP-IT webinar.
NextGen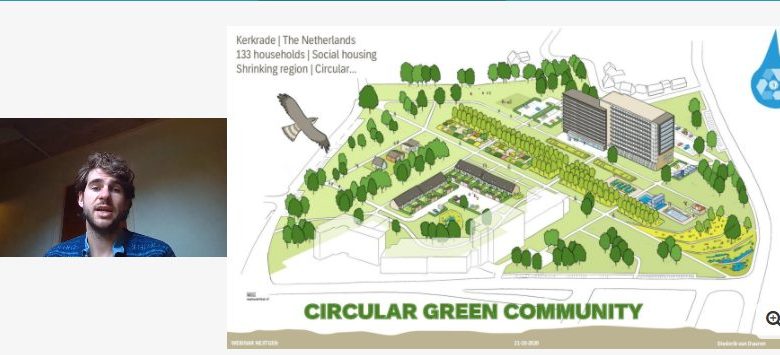 This webinar looked at the current developments in circular water solutions, with a focus on the NextGen EU project and a real-world example of circularity innovations from WML Limburgs Drinkwater. The NextGen project champions transformational circular economy solutions around resource use in the water sector. During the webinar, the speakers demonstrated how EU projects like NextGen, focusing on the circular economy, can bring about essential water utilities' key innovations. Furthermore, the webinar looked into practical applications of circular solutions implemented in Limburg and, more broadly, across the Netherlands, with examples from current projects and their implementation pathways.
Speakers & Moderators: Jos Frijns, Senior Scientific Researcher, KWR, Diederik van Duuren, Strategy & Innovation Advisor, WML, Joep van den Broeke, Senior Scientific Researcher, Project Manager, KWR
Watch the recording of the Webinar for NextGen.
Conclusions
In conclusion, and based on the Joint Research Programme partners' feedback, KWR works in EU Projects that directly impact the drinking water utilities. The past and current projects offer deliverables, such as tools, techniques, and research that can be of direct use by the water utilities focusing on key themes, such as cyber-physical risks, drinking water distribution systems, and the circular economy.
Partners of the Joint Research Programme were mostly positive about the webinar series in terms of knowledge transfer. Therefore, KWR will continue this in 2020/2021 as part of the joint approach in BTO. KWR continues to work on EU projects keeping in mind the broader impact of the projects locally and globally and how we, as a leading research institute, can contribute to a water-wise world.