In ten years, the City Blueprint Approach (CBA) has developed into a powerful tool to assess how water-wise a city or urban area is – and the route to better performance. To date, 126 cities have applied the full City Blueprint Approach. Where not all required data are available, an accurate estimate of the Blue City Index (BCI)  can be made from a limited dataset. In Africa, UNESCO, the University of Bath and KWR have applied the City Blueprint Approach with young professionals in 6 cities and just started a new project for four more cities, contributing to local insight into water management and essential capacity building. Kees van Leeuwen, who first developed the City Blueprint, views it as a powerful tool to help cities find the path towards sustainable integrated water management. "It all starts with a good diagnosis. Building a water-wise city is feasible in decades, as a recently published retrospective analysis of Amsterdam shows. When we look at the maximum scores for the individual indicators that comprise the BCI, we see that globally, we have the technology to solve all water challenges. Making more cities water-wise can improve the lives of future generations around the world."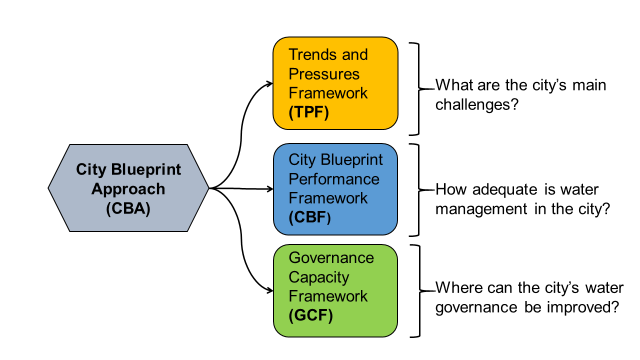 Cities will take the brunt of most of the world's water challenges because more and more people live in cities – by 2050, 87% of the world's population will live in urban areas. In the last ten years, Stef Koop and Kees van Leeuwen built and improved the CBF, a specific tool to assess how adequate a city manages water. To this date, they have evaluated 126 cities. Based on their research, they built a complete City Blueprint Approach, in which the CBF is combined with the Trends and Pressure Framework TPF (that identifies a city's main challenges) and the Governance Capacity Analysis Framework ( which shows where the city's water governance can be improved). The City Blueprint Approach is a baseline assessment that helps cities becoming water-wise: circular and climate-resilient and open for opportunities and cost-effective improvements. As yet, only two cities have reached the water-wise level: Amsterdam and  Singapore.
Blue City Index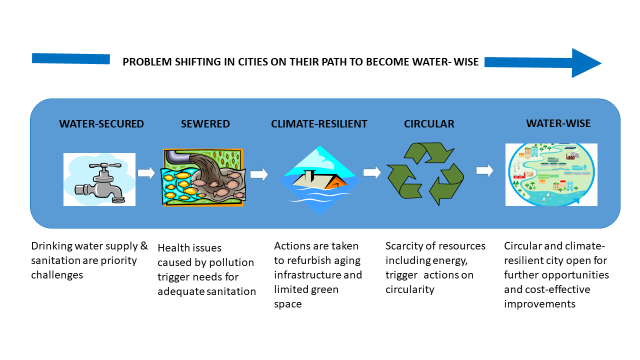 Municipalities or urban areas aiming for water wisdom usually go through different stages (see figure): from securing drinking water and sanitation to health issues caused by pollution, ageing infrastructure or scarce resources. The City Blueprint Framework gives a baseline assessment of a city's water resources management. The 24 indicators describe essential water services, water quality, wastewater treatment, water infrastructure, handling solid waste, climate adaptation and plans and actions. The BCI relies on public data or data provided by utilities, governing bodies, NGO's and companies. This information gathering is an interactive process, and ideally, involves all stakeholders in an early stage. The City Blueprint Approach can be applied worldwide and is a driving force towards better water management, while aiming for compliance with the Sustainable Development Goals targets.
Young water professionals
Last year, UNESCO, the University of Bath and KWR collaborated successfully with local young water professionals and their mentors to help them assess six African cities with the City Blueprint: Abuja, Bangui, Harare, Libreville, Windhoek and Yaoundé. This project was part of the 8th UNESCO Intergovernmental Hydrology Programme, which focuses on water security on the local, regional, and global levels scales. The City Blueprint Approach provides actionable tools: it helps understand the key priorities, taps the untapped potential of cities, offers concrete city roadmaps for meeting SDG 6 and promote city-to-city networks to accelerate this process.  The collaboration between young professionals in Africa, UNESCO, the University of Bath, and KWR continues. Based on last years' experience, the partners decided to use the City Blueprint Approach to assess the sustainability of water management in four more African cities: Abidjan (Ivory Coast), Lusaka (Zambia), Lagos (Nigeria) and Nairobi (Kenya). This new project started May 31st, 2021 and UNESCO expects that it will give important insights into the strength and weakness of these cities in water, waste and climate change and provide the basis for future policymaking. The network and synergy created during this project will also stimulate innovations against challenges cities may face and provide the young professionals with expertise and additional professional opportunities. This experience will help them take a significant role in the improvement of integrated water management in the future. The generated capacity-building is essential for achieving Sustainable Development Goal 6 on clean water and sanitation.
Estimation of BCI
Gathering all the necessary data for the City Blueprint Approach can be a daunting task, especially in data-poor countries or countries where sharing such information is not the convention. Fortunately, Dragan Savic (CEO of KWR) and Chloe Grison (Copernicus Institute of Sustainable Development, Utrecht University) developed a method to estimate the BCI based on 6000 data points for 125 cities. A reliable value for the BCI can now be predicted based on an equation with only three indicators (Government effectiveness, Secondary Waste Water Treatment and Energy recovery). This estimation has already been applied to 75 cities worldwide and provided cities information on their current water management and the distance to target for several SDGs.
Amsterdam: looking back shows the way forward
A retrospective analysis of water management and water governance in Amsterdam, a master thesis by Sannah Peters (Copernicus Institute of Sustainable Development, Utrecht University), coordinated by Waternet and KWR, has revealed how water management and governance evolved in the city of Amsterdam from 1672 to the present. The work has just been published. It took over six centuries and many trials and errors to gradually develop and improve the water system. History shows how water management in Amsterdam has often been reactive: a response to water nuisance, floods, disease. Increasing knowledge and long term planning were necessary steps to achieve gradual improvement. The last 50 years have seen a vast improvement in the BCI: from 4.3 in 1970 to 8.7. "This should give other cities considerable hope," says Kees van Leeuwen. "This retrospective analysis demonstrates that improvement is feasible within decades, provided that there are clear plans, actions and resources."
We have the technology – now we need to share it
Plotting the best scores out of the Blue City Index for 125 cities results in a perfect blue circle, with indicator scores of 10 and a BCI of 10 as well. "This means that on a global level, we have the technology and knowledge to turn more cities blue. Sure, technology needs to be adapted and optimized, but if we all share our expertise and experience with other water professionals globally, we can achieve so much more. We need to exchange best practices! Of course, we need to put the challenge of improving integral water management into the hands of people who can afford to plan for more than just a few years ahead. We should not leave it solely to politicians. Making more cities water-wise can improve the lives of future generations around the world."