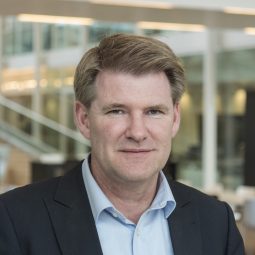 Idsart Dijkstra MSc MBA
Manager Water Systems and Technology
Idsart Dijkstra is a member of KWR's management team and heads the Water Systems & Technology Research Group. Together with the group's 75 experts, he works in the fields of Drinking Water Treatment, Industry Water, Wastewater & Reuse, Eco/Geohydrology, Plant Engineering and Water Infrastructure.
Over the past 23 years, Idsart has accumulated a great deal experience in the area of water supply, for example, at the Vitens water company. In his early years at KWR, he set up the Knowledge Management Research Group, which he used as a base to develop the Watershare international knowledge network. In 2013, he became manager of the Water Quality & Health Research Group, where he broadened KWR's international focus when it became a WHO Collaborating Centre. At the beginning of 2017, he became manager of the Water Systems & Technology Research Group, where he concentrates primarily on business development for private industry within and outside of the Netherlands.
Idsart graduated in 1992 from the Faculty of Civil Engineering at TUDelft, with a specialisation in Health and Sanitary Engineering. He also holds a Master's in Business Administration from the Rotterdam School of Management (Erasmus University).