A broad coalition will be working in the years ahead to determine the possibilities of using aquathermal energy in heating or cooling buildings. Aquathermal energy – that is, thermal energy from water – is a source of sustainable heating for homes and other buildings. On 14 May, parties from the government, water management, research and business sectors signed the Aquathermal Energy Green Deal. KWR was among the signatories.
Aquathermal energy is heat and cold recovered from different water sources. Specifically, it involves thermal energy from surface water, wastewater and drinking water. Homes and other buildings can be sustainably heated with this clean energy source. Aquathermal energy can thus accelerate the switch to natural-gas-free heating and contribute to the necessary energy transition. Water managers, water utilities and wastewater managers need other parties, such as governments, network managers, heating companies, knowledge organisations, technical consultancies and building owners, to make effective use of this heat source. The Green Deal brings them all together.
Aquathermal Energy Green Deal
The Ministry of Economic Affairs and Climate Policy is providing € 900,000 to the Green Deal as a contribution to the implementation of the Aquathermal Energy programme. Other parties are also making financial or in-kind contributions. The aim is to draw stakeholder attention to aquathermal energy, develop and share knowledge about aquathermal energy, and assess its value in practice, so as to anchor it in regional energy strategy and enable its use as alternative heating. This will involve collaboration with other government climate programmes, such as the national Regional Energy Strategy (RES) Programme and the Natural-Gas-Free Neighbourhoods Programme (PAW).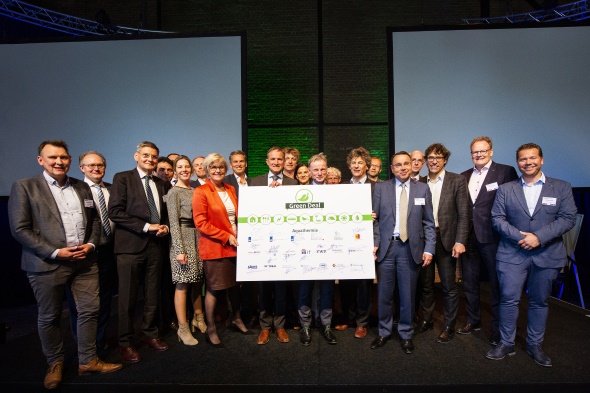 Significance for water sector and KWR
Research shows that thermal energy from surface water could meet 40 percent of the heating needs of urban areas. The contributions of wastewater and drinking water sources could be 15 and 1.5 percent, respectively. KWR commits itself to the large-scale application of aquathermal energy by contributing to the knowledge and innovation agenda, sharing knowledge about the use of aquathermal energy, and assuring continuity in aquathermal energy research. These activities connect with KWR's research on thermal energy from drinking water, distribution networks, geothermal energy and soil ecology. Over the next two years KWR researchers will therefore be creating tools that support the development of aquathermal energy projects.
Parties
Besides KWR, the following parties have signed the Green Deal: Ministry of Economic Affairs and Climate Policy, Ministry of Infrastructure and Water Management, Ministry of Interior and Kingdom Relations, Dutch Water Authorities, Vewin, NWB Bank, Deltares, STOWA, Erasmus University Rotterdam, VNG, Brabantse Delta Water Authority, Aa and Maas Water Authority, Brabant Water, Province of Friesland, Province of Gelderland, Province of South Holland, Netbeheer Nederland, Syntraal and IF Technology.