Water is essential for all life on earth. Water is needed for nature, for our food and energy and for our economic development. KWR tries to actively contribute to this on three levels:
International
European and
National
1 – Our contribution to sustainable development internationally
On a global level, various frameworks are relevant for the (drinking) water sector: the UN Sustainable Development Goals (SDGs), the climate agreement of the Paris Climate Conference 2015 (COP21) and the UN HABITAT programme, which stands for the implementation of the New Urban Agenda (Habitat III) and SDG 11.a. The United Nations SDGs are the international goals with which we can achieve a better and more sustainable future together. Because our water resources are becoming scarce and polluted, ensuring sufficient clean water is a major global challenge. To address this and other water challenges, transitions have to be made to enable the sustainable management of our water resources. Only through research, innovation, valorisations, and knowledge and skills in the field of water will humanity be able to face these global challenges and act in a water-wise manner. Water is directly and indirectly linked to all 17 sustainable development goals. KWR's research activities contribute to 11 of these 17 SDGs:
Zero hunger (SDG 2)
Good Health and well-being (SDG 3)
Clean water and sanitation (SDG 6)
Affordable and clean energy (SDG 7)
Industry, innovation and infrastructure (SDG 9)
Sustainable cities and communities (SDG 11)
Responsible consumption and production (SDG 12)
Climate action (SDG 13)
Life below water (SDG 14)
Life on land (SDG 15)
Partnerships for the goals (SDG 17)
2 – Mission-driven objectives at European level
At European level, the EU's Societal Challenges and Key Enabling Technologies are relevant. As a guideline for the programming of the Horizon Europe research programme, the European Commission has defined five European Mission Areas, four of which are relevant to the (drinking) water sector:
Adaptation to Climate Change, including Societal Transformation
Healthy Oceans and Natural Waters
Carbon-Neutral and Smart Cities
Soil Health for sustainable food
The intention of the EC is to formulate more concrete missions or objectives under these Mission Areas, but these are not yet available.
3 – Mission-driven objectives in the Netherlands
In the Netherlands, the mission-driven approach has come to the fore in recent years in the Mission-driven Knowledge and Innovation Policy. This sets out the missions for four societal themes on which innovation policy will focus in the coming years. Linking these societal challenges to the business community and knowledge institutions has led to 25 concrete missions within four themes: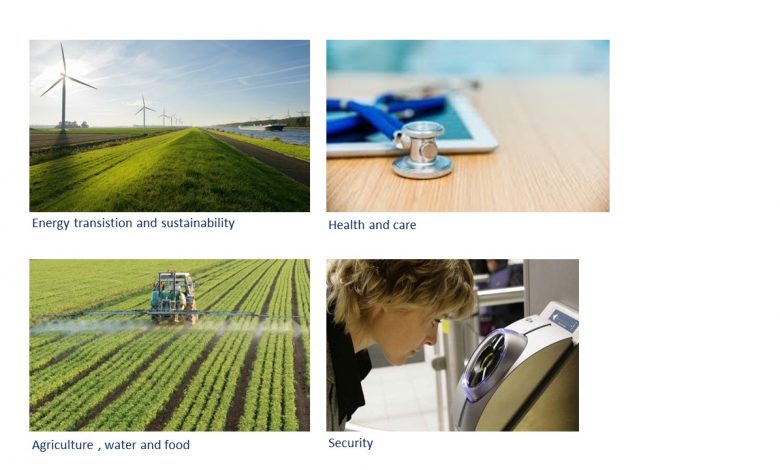 The four themes for the Netherlands
Energy transition and sustainability
Agriculture, water and food
Health and care
Security
Of these four themes, two are of particular important to KWR: 'Energy Transition and Sustainability' and 'Agriculture, Water and Food'. A fifth category, Key Enabling Technologies, complements the four social themes. An important aspect of Dutch mission-driven research is that joint, long-term goals are agreed upon, which bring focus to the R&D effort of companies, governments and knowledge institutes. These goals require cooperation between sectors (crossovers) and between disciplines in the knowledge chain.
By formulating the 25 missions, the central government has initiated the new generation of Knowledge and Innovation Agendas and Covenants (KIAs/KICs).  These new KIAs will run for four years (2020-2023) and are no longer sector-oriented, but will develop along the lines of the four societal themes plus key enabling technologies.