From 12 to 15 April 2015, an international group of 35 scientists working on the Global Water Pathogen Project were welcomed at KWR. During the meeting, seven chapters of the standard work, Sanitation and Disease Health Aspects of Excreta and Wastewater Management, were updated. KWR's Gertjan Medema, is one of the book's authors and editors.
Supplementing and improving knowledge online
The initiative for this project was taken in 2014, when it became apparent that there was a growing need for knowledge about waterborne pathogens. Dr Joan B. Rose, of Michigan State University, is one of the project's initiators. 'The last standard work in the field of sanitation and waterborne pathogens was published in 1983. I myself contributed to that book, when I was doing my graduate work. Over the past few years its orders have started to grow again, even though it doesn't contain much new information. The new possibilities offered by molecular methods and PCR have added enormously to our knowledge, but you won't find it in the book. That's a big flaw, because scientific knowledge about pathogens in water, and methods for removing them, is crucial to promoting and improving public health all over the world. Only with good knowledge will we be able to achieve, or even approach, the millennium goals for sanitation. This is why we have started, with dozens of other experts in the field, to supplement and improve the book's knowledge, and then make it available on the internet in an open-access system. This makes it possible to effectively disseminate and supplement the information: smartphones are also used all over the place in Africa.'
Network of 150 authors
During the meeting in Nieuwegein the project's Indicators and Microbial Source Tracking team worked on supplementing and improving at least seven of the book's chapters. 'With this new manner of working, we have brought together about 150 authors,' says Rose. 'The result is a strong network including experienced authors and young people: this is the only way to ensure that the Global Water Pathogen Project will be continuously pursued over the next ten years and longer, and be steadily expanded with the latest information.' Parallel to the workshop, a seminar was organised on the application possibilities of microbial source tracking for the water sector: representatives of water companies, laboratories, the National Institute for Public Health and the Environment (RIVM), and the Dutch Directorate for Public Works and Water Management (Rijkswaterstaat) learned about and discussed the state-of-the-science and current applications.
Partners and donors
The Global Water Pathogen Project is fueled partly by voluntary commitment and partly by donations from institutions and businesses. UNESCO is a partner in the project, as is Michigan State University and AgroKnow, a technology company that is building the database. WHO is also involved in the project and Proctor & Gamble is a donor. 'There is great interest in this project worldwide. Water provision is becoming increasingly dependent on a supply chain which spans all of our planet, both with regard to knowledge and the required chemicals and materials. We want to make sure that the supply of knowledge, at any rate, is well taken care of,' says Rose.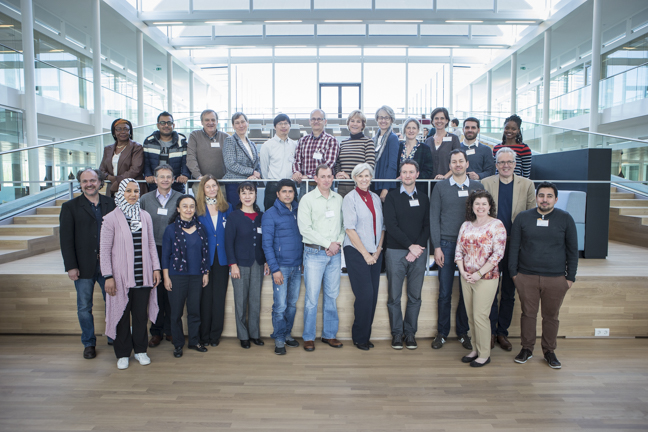 The team Indicators and Microbial Source Tracking of the Global Water Pathogen Project visiting at KWR in Nieuwegein