At the Innovation Expo 2018 in Rotterdam, the Association of Regional Water Authorities and the Water Bank (NWB) announced the twelve nominees for this year's Water Innovation Prize. KWR researchers are involved in a quarter of these projects, including the 'Urban Waterbuffer Spangen' and 'Tomatoes on sugar-beet residual water'.
The annual Water Innovation Prize has been awarded since 2012 in recognition for innovative solutions and pioneering ideas in the field of water. The jury is presided by Lidewijde Ongering, Secretary-General of the Ministry of Infrastructure and Water Management. This year the jury received 124 submissions. The prize will be awarded on 29 November in four different categories: Water Safety, Clean Water, Adequate Water and Circular Economy.
Adequate Water category
The 'Urban Waterbuffer Spangen' involves the collection and subsurface storage of rainwater in the vicinity of the Sparta Stadium in Rotterdam. The water is then used in the neighbourhood and to water Sparta's playing pitch. The Urban Waterbuffer limits flooding and the rainwater, rather than being discharged, is retained for later use in dry periods. This TKI innovation project was carried out by KWR together with other parties, including the municipality of Rotterdam, the Delfland Water Authority and the drinking water utility Evides. 'Thanks to the enthusiasm and good collaboration of all the parties involved, this project was completed in a short period and the local watercycle is now closed!' says KWR researcher Marcel Paalman.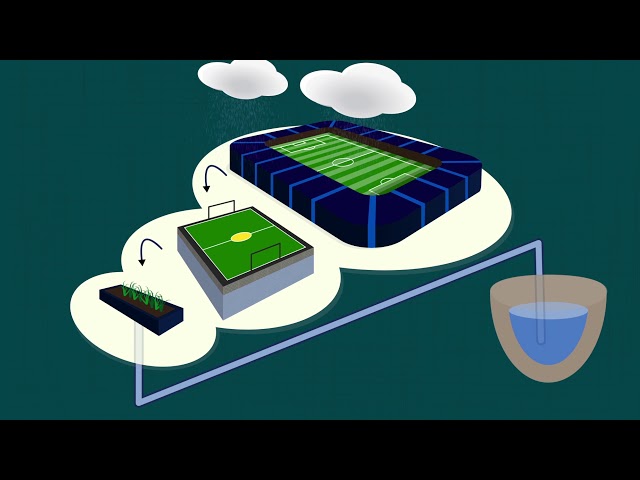 How does the Spangen Rotterdam Waterbuffer work?
Circular Economy category
'Tomatoes on sugar-beet residual water' was officially opened this spring in Nieuw-Prinsenland (Dinteloord) and the project was submitted by a satisfied users' cooperative. KWR developed the system in which treated residual water from a sugar factory is stored in the subsurface and recovered for use by the neighbouring greenhouse horticulturalists in periods of shortage. Researcher Koen Zuurbier notes that 'the supervision of the work and the system's operational management is done through Allied Waters SALutions. In 2018 we were able to avoid water shortages thanks to the system.'
The Limburg Water Authority company project, 'SuperLocal closed watercycle', was also nominated in this category. Researcher Henk Jan van Alphen, on KWR's relationship with the initiative: 'This project arose in part from research that KWR conducted with WML and Dunea into the consequences of water reuse and the use of rainwater as a (drinking) water source. We're now again working with WLM within BTO WiCE on research on the governance aspects of SuperLocal.'
Clean Water category
The 'Koningshoeven NextGen' project of the De Dommel Water Authority and Abdij OLV Koningshoeven was nominated in the Clean Water category. The project is embedded in the larger European Horizon 2020 project NextGen.
Public Prize: vote!
Up until 25 November (inclusive) you can vote online for the Public Prize.