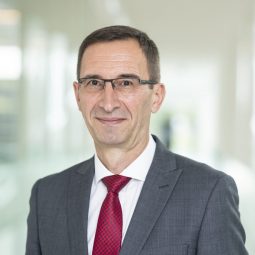 Prof. Dragan Savic FREng
Professor Dragan Savic FREng is the CEO of KWR Water Research Institute, the Dutch drinking water companies' collective research organisation. He obtained his PhD in Civil Engineering from the University of Manitoba, Canada, in 1990, and then held a number of academic, consultancy and project management positions in Canada and his native Serbia, before relocating to the United Kingdom, where he co-founded the University of Exeter Centre for Water Systems in 1998.
The Centre is now recognised as a leading international research group for excellence in water and environmental science research. For over 20 years he co-led the Centre, which now has a staff of more than 80 and funding at any time exceeding 5 million pounds sterling (6 million euros).
In 2001 he became the UK's first Professor of Hydroinformatics, holding this post until 2018 at the University of Exeter, where he was also the head of the Engineering faculty between 2010 and 2014.
In 2013 he was elected a Fellow of the Royal Academy of Engineering (FREng), the highest honour for a UK engineer. He is also a Fellow of the Institution of Civil Engineers (UK), a Fellow of the Chartered Institution of Water and Environmental Management (UK), and a Fellow of the International Water Association (IWA). He is currently Visiting Professor at the University of Belgrade (Serbia) and IHE Delft (the Netherlands), and Distinguished Professor at Universiti Kebangsaan (The National University of Malaysia).
His research interests cover the interdisciplinary field of Hydroinformatics, which transcends traditional boundaries of water/environmental science and engineering, informatics/computer science (including Artificial Intelligence, data mining and optimisation techniques) and environmental engineering. The applications of his research are generally in the environmental engineering areas, including water resources management (both quality and quantity), flood management, water and wastewater systems, and environmental protection and management.
His research topics include:
development and application of decision-support systems, simulation and optimization models to improve understanding and provide solutions to water engineering problems;
hydroinformatic tools and techniques and their effective application to managing risk and uncertainties associated with water systems;
real-time management of urban water systems involving smart monitoring, telemetry systems and sensor networks;
cross-disciplinary complex system approaches to water resource management;
understanding of urban water distribution and wastewater systems, including technical, socio-economic and environmental issues;
integrated assessment modelling of the water-food-energy nexus;
integrated asset management methodologies for water industry applications.