In April 2015, the 'Water Tap Sprinkler' (Waterleidingsprinkler) won the 2015 Fire Protection Award. Following a short introduction of the three nominees, the winner was determined by public vote. This happened during the 2015 National Fire Protection Event at Domus Medica in Utrecht. KWR researcher Jan Vreeburg, on behalf of TU Delft, was involved as developer of the concept and the driver behind the research and development.
Minimise number of house-fire victims
The Water Tap Sprinkler is an automatic extinguishing system which, as the name suggests, can be directly installed in a home's indoor network, without requiring any complicated adjustments. Its operation is practically flawless and it has the potential of reducing the number of house-fire victims – approximately 60 every year in the Netherlands – to zero. A consortium including BAM, TU Delft, VSH, Haaglanden Fire Service and several water companies developed the Water Tap Sprinkler with backing of public funding.
Time and chance to escape
If the temperature at the ceiling rises above 58oC, the Water Tap Sprinkler starts up. It sprays a screen of fine water droplets which controls the fire, suppresses smoke gasses and keeps the temperature down. This gives residents the time and chance to escape – it is the lack of time that lies behind most house-fire victims. Modern house design usually provides for only three minutes between the start of a small fire and the moment the flames billow through the roof. Far too little time for the aged, small children and others less capable of self-rescue to escape. These categories are disproportionately represented among fire victims. The Water Tap Sprinkler can drastically cut the number of victims, both in new residential buildings and existing ones.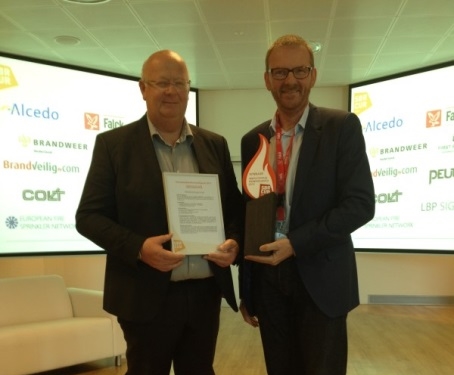 On the left Michael Steffens, director of BAM Bouw en Techniek bv – Fire Protection and on the right Jan Vreeburg of KWR