A sustainable energy system can only thrive if it includes a satisfactory energy-storage system. Besides heat, green hydrogen is a sustainable energy carrier, which moreover has the prospect of becoming more inexpensive. It is perhaps not the solution to all the issues, but there are already companies that are pioneering the application of green hydrogen. In this context, stakeholder collaboration is important for the development of a business case. This was the conclusion from the Hydrogen Seminar that Allied Waters and KWR organised in Nieuwegein on 11 March.
The afternoon event was held on the occasion of the appointment of Prof. Ad van Wijk as KWR Honorary Fellow. Van Wijk received the fellowship award from the KWR's CEO, Dragan Savić, prior to the seminar.
Knowledge sharing
The seminar's objective was to promote knowledge sharing in the field of renewable energy, particularly regarding the potential of hydrogen as an energy carrier. The participants included energy and water sector experts, policy-makers, entrepreneurs and financial professionals.
The role of hydrogen
'Hardcore energy specialist', Van Wijk, has been associated with KWR for many years. His knowledge encompasses both energy and water. In his keynote he shared his vision of the energy provision of the future. A primordial role is reserved for hydrogen. But Van Wijk stressed that this vision is not new. In 1874, Jules Verne wrote that water would become the new fuel by using it to make hydrogen: an inexhaustible source of heat and light. 'I have simply been parroting someone else you see,' said Van Wijk.
Challenge
The steady drop in the cost of renewable energy is giving hydrogen a boost. There is not enough of this energy available in Europe, but if we were to cover 10% of Australia with solar panels, we would have enough energy for the entire world. We would achieve the same outcome by using 1.5% of the Pacific Ocean for the generation of wind energy. 'The challenge', according to Van Wijk, 'is to produce the energy as cheaply as possible, at the right time and at the right place.' This is where hydrogen plays a key role. Hydrogen allows you to transport the energy and also to store it until you need it. In Nieuwegein-Utrecht, far-reaching implementation project plans are already in the works; and Van Wijk, through KWR and Allied Waters, is closely involved.
Inland vessel on hydrogen
Hydrogen is not itself a source of energy: it is an energy carrier. 'It's the ultimate circular energy carrier,' as Van Wijk put it. Hydrogen is the centre of enormous worldwide attention. It is not always one hundred percent green, since it can also be produced through coal gasification and accompanying CO2 underground storage. 'But we need to do this in the transition period, to get things moving,' said Van Wijk. 'The next step would then be green hydrogen.' Richard Klatten, of Future Proof Shipping, developed this point in his keynote. 'Shipping is a huge polluter,' he pointed out. 'Emissions from the shipping industry are comparable to the entire CO2 emissions of all of Germany.' It's high time we pushed for sustainability, in the view of Future Proof Shipping, the network organisation which aims to cut shipping emissions to zero. And research and development points to hydrogen as an alternative fuel for ships.
Tying knowledge together through partnerships
The transition to hydrogen will occur only when the market players call for it, said Klatten. 'We are a tiny club that builds partnerships. We tie all knowledge, all science and all conceivable partners together. Because it is vital that we draw on each other's knowledge if we are to make progress.' And sometimes it all amounts to one thing: taking action. 'Naturally we want green hydrogen, and interest in it is growing fast. But the transition phase to hydrogen-powered shipping must at times involve the use of blue, and sometimes even grey, hydrogen. This can get the market moving in the right direction.'
Klatten's organisation itself also launches projects to stimulate the market. For example, in a pilot project with Allied Waters and KWR, they've purchased a container ship that is being refitted to run on hydrogen. 'Our biggest challenge was the surplus green hydrogen that Allied Waters had and that we really needed. So, we jointly put together a business case. This project is a fine example of a chain approach. We get things rolling – something that might otherwise have taken years to happen. You have to start somewhere, and that's what we ourselves are doing now in collaboration with Allied Waters. With this one ship, we'll cut CO2 emissions by 2000 tons a year.'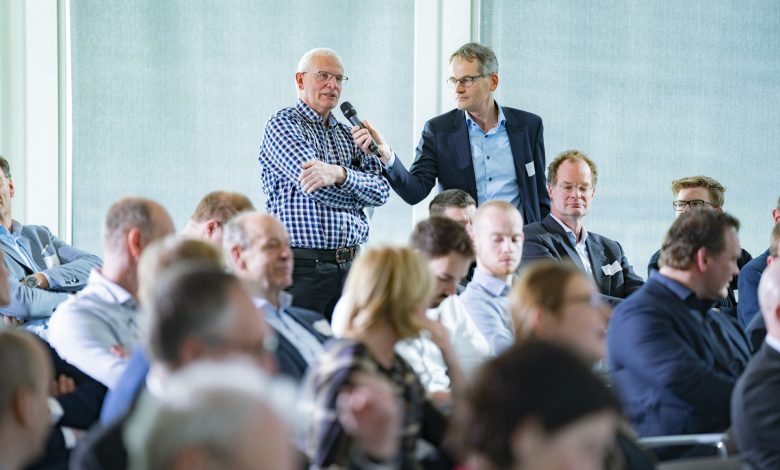 Towards socially responsible entrepreneurship
Some key players in the field made interactive pitches during the seminar. Robert Scholman, of the Scholman construction company, was among them. He spoke of the future plans to transform a 'diesel-devouring company', which consumes 2.5 million litres of the fuel every year, into a socially responsible enterprise. But the possibilities of using only electric-battery means of transport were too limited. That's when electrical transport based on hydrogen entered the picture. Scholman intends, in collaboration with partners, to take on a pioneering role, among others, through the construction of a hydrogen filling station and the conversion of its own machinery to hydrogen. The company will thereby also strengthen its market position.
Sustainable Bonaire
KWR's Els van der Roest talked about the sustainable energy system that Bonaire is working on. Wind turbines generate 36% of the island's energy, and diesel accounts for the rest. Bonaire wants to change this, and hydrogen can play a part in the initiative. This will affect the energy provision for the island's 20,000 inhabitants and the 530,000 tourists that visit it every year. Bonaire wants to become a 'blue destination', and Allied Waters and KWR want to help it explore the options. 'A sustainable energy provision is certainly going to work in that part of the Netherlands,' said Van der Roest.
Value of collaboration
Lianda Sjerps, of TKI Urban Energy, placed heat at the centre of her presentation and emphasised the value of collaboration within (innovation) projects. 'If a project doesn't work, it's not because of the technology,' she said. 'It all boils down to how quickly we can discover and implement each other's competences, and convert enthusiasm into action.'
The same message was delivered by the water envoy, Henk Ovink, who was present via a film. 'Connecting the worlds of water and energy is absolutely crucial,' he said. 'Water is the lever for sustainable urban development.' The challenge worldwide is huge. We need to draw on all the smart ideas of professionals and researchers to shape the future.'
The Netherlands is on the forefront
Hydrogen envoy, Noé van Hulst, in the closing keynote, stressed that an acceleration of development in the hydrogen sector can be achieved if we work together, as partners and as countries. 'The Netherlands has great potential when it comes to hydrogen, and is on the forefront in the major projects. Leading international companies invest in the Netherlands. But we shouldn't confine our focus to the Netherlands, be it locally or regionally; we have also to keep the global context in mind. A lot more collaboration is needed. We need to help set up projects that can realise upscaling and cost reductions; and we need to work with international partners in overcoming any barriers that might exist early on.'
Collaboration is indispensable
Hydrogen is a global story, agreed Honorary Fellow Ad van Wijk in his closing words. 'But you have also to get down to work locally. We can come up with all sorts of notions at the international level, but if they're not anchored locally, you won't start anything. Maybe I'm biased, but I think hydrogen will come alive, and for citizens as well. People are calling for sustainable development. Hydrogen must therefore be appropriately incorporated into the Climate Agreement. But remember: hydrogen is not the answer to everything. We have to consider heat, electricity and hydrogen as energy carriers in conjunction – and you still need to insulate your home, for instance.'
'In sustainable projects', he concluded, 'collaboration is indispensable. You can't develop a business plan without working together. This presents a fine challenge for KWR and Allied Waters over the next hundred years.'