KWR has traditionally been present at Aqua Nederland Vakbeurs. The trade fair's next edition will be held in Gorinchem on 19, 20 and 21 March. The theme of KWR's stand will be scientific, innovative and practice-oriented research. Visitors will have the occasion to see the latest innovations and products in the field of water quality, water treatment, water management and water technology. Moreover, during the National Water Technology Week, which will run simultaneously, KWR experts will give presentations on Legionella, sewage water, and water storage and reuse and on Thursday afternoon, 21 March, the KWR-symposium on 'Developing knowledge for implementation in water practice' will be held.
KWR generates knowledge to enable the water, industrial, horticultural and agricultural sectors to operate in a water-wise fashion. At KWR, we feel a professional and societal responsibility for water quality and the provision of the right amount of water at all times. Our scientific and practical findings, and the resulting innovative concepts, contribute worldwide to the sustainable availability of water. For this, it is essential that we remain connected with water practice. Our research is meaningful because the results and solutions respond to the practical needs of our clients.
Five topical subjects at the KWR stand
The KWR stand will demonstrate the value added of our knowledge for water practice through five topical subjects. Researchers will take stand visitors through the possibilities and impossibilities regarding five subjects:
Is water treatment difficult? KWR conducts research on different aspects of the treatment of wastewater, drinking water and process water, as well as on water reuse. At the stand we will have the opportunity to share ideas about what is and what is not possible when it comes to water treatment – we will use a schematic example of a treatment cycle in which dirty wastewater is converted into clean drinking water.
Is clear water also clean water? The quality of water is important for organisms that live in it and for people who want to drink it. Researchers in KWR's chemical and microbiology laboratories assesses the health of the water under normal conditions and in the event of incidents. Our stand will also offer visitors the opportunity to discover this water micro-world for themselves.
Is there too much or too little water in the Netherlands?  Urban areas have to deal with heavy precipitation, but also with water shortages. By treating and then temporarily storing rainwater – on blue-green roofs, under the street and in appropriate subsurface sand aquifers – the water can be reused in dry periods in the city's green areas.
Are your water networks too costly? Over the last few decades growing attention has been paid to the optimisation of extensive and complex water distribution systems. It is both difficult and labour-intensive work for experts to determine smart solutions to this problem. At our stand we will be demonstrating the 'Gondwana' software program, which unlocks complex optimisation techniques for hydraulic experts.
Is residual water valuable? The reuse of resources recovered from water is attracting more and more attention, as is the role of water in the energy transition. Researchers at the stand will show products that are recovered from drinking water or wastewater. They will also demonstrate how water and energy are connected.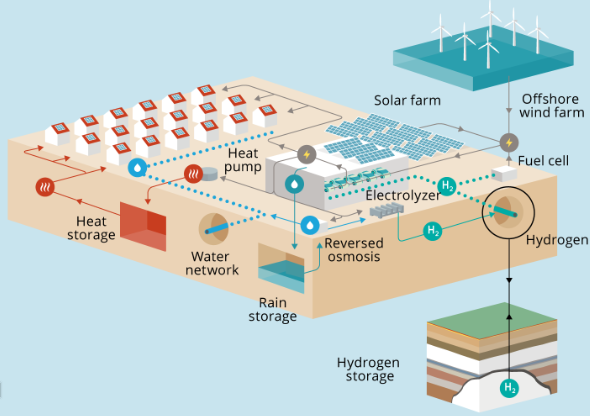 Test your expertise
Our stand will also give visitors the chance to test their expertise. Are you curious about how much you know? Drop by, test your expertise and maybe win a prize.
National Water Technology Week 2019
During the National Water Technology Week presentations will be made each day on a different theme-of-the-day. On Tuesday, 19 March, the theme will be 'Is water still really so safe?'. A number of KWR researchers will be giving talks on this theme. Anthony Verschoor will talk about  'Legionella in and out of the treatment process' and Erik Emke about  'Sewage water: the mirror of the society'. The theme on day two is 'Technology of the future requires no maintenance'. While Thursday's theme is 'The city as autonomous ecosystem'. On Thursday evening, Toon Boonekamp (Arcadis) will talk about 'COASTAR: Surface and subsurface connected. Towards a robust and circular water supply'.  On Thursday afternoon Marcel Paalman will discuss two projects: 'Residual water as buffer water: future resilient water supply for greenhouse horticulture', and 'Urban Waterbuffer: balancing water surplus and shortage'.
Symposium on 'Developing knowledge for implementation in water practice'
What is the added value of water distribution systems that are smartly designed? How do you diagnose the sustainability of urban watercycles? Researchers from water research institute KWR will be answering these and other questions on Thursday afternoon, 21 March, during the symposium on 'Developing knowledge for implementation in water practice'. The event will be held in meeting hall 4 of the Evenementenhal Gorinchem from 14:00 to 17:00.
'Intrinsically smart distribution systems' by Peter van Thienen
Peter van Thienen will talk about the concept of smart drinking water distribution systems and present several design philosophies and numerical techniques to produce networks that are truly smart, both intrinsically and operationally. Smart networks generally refer to networks that are equipped with sensors and/or actuators, and to the application of algorithms for the identification of anomalies (e.g., pipe fractures) or for advanced process management. Intrinsically smart networks also involve a design that is based on smart design philosophies and a smart use of materials.
'The City Blueprint Scan: why start with a diagnosis of our cities?' by Kees van Leeuwen
The City Blueprint is a quick-scan assessment of the sustainability of the urban watercycle. It can be used to communicate sustainability objectives in cities, and to explore priorities and watercycle improvement options. In his presentation Kees van Leeuwen will discuss why this diagnosis is so important. He will also explain the role of water governance, that is, all the political, social, economic and administrative systems involved in the development and management of water supplies and delivery of water services, at different societal levels and for different objectives.
'Water Quality Knowledge Impulse programme Toxicity Project' by Milou Dingemans
The objective of the Water Quality Knowledge Impulse programme is the application of existing knowledge to address practical problems confronting water managers. In the Toxicity Project existing knowledge about the possible impact and behaviour of substances, and their measurement, is made implementable with the aim of gaining insight into water quality. The focus is on the development of decision aids and protocols for the application of measurement instruments (for substance concentrations and impact), and tools for the interpretation of the results. These products are fine-tuned and then made available in close consultation with the end-users (water managers and water utilities).
'TKI CoRe Water: From WWTP to sustainable water factory' by Kees Roest
In the innovative CoRe Water treatment concept wastewater is first concentrated before undergoing further treatment. This allows sewage water to be treated in an energy-saving and efficient manner, with a higher removal efficiency (N, P and micropollutants) and an optimal recovery of resources like nutrients, energy and, most of all, water. The challenge in the Concentration, Recovery & Reuse (CoRe Water) project is to work on both making sewage water treatment more sustainable and cost-efficient and producing a better effluent quality (removal of micropollutants, nitrogen and phosphorus).
'Water in the circular economy: reuse of industrial residual water in agriculture' by Ruud Bartholomeus
The Bavaria brewery is giving concrete form, within the Boer-Bier-Water programme, to the reuse of its own, treated residual water by neighbouring farm enterprises. Because of a more and more capricious climate, farmers are facing decreasing crop yields and increased irrigation needs. During the growing season, the soil moisture levels in the root zone are less and less adequate. By using industrial residual water to combat drought, rather than discharging it, unused, into surface water and the sea, one can reduce water shortages.
To attend the the Symposium please register here.
Will you be coming to the KWR stand?
Everyone is of course welcome to visit our stand. Entry to Aqua Nederland Vakbeurs is free, but you are asked to register online using the registration code: 71957237. After registering, you will receive your ticket for the trade fair and you'll be able to attend the presentations of the National Water Technology Week. To attend the sessions of the National Water Technology Week you must first register.